Affiliate Payouts
Affiliate Payouts at the Chat Checks Affiliate Program is designed to help you earn more money. You will earn 50% of all lifetime revenues generated from your traffic. This includes both initial and any recurring income. Chat traffic tends to convert very well over time. We find our visitors are loyal and the traffic converts well due to the highly focused niche marketing available in our chat platform.

The best part of all is that we don't cut into the profit of any advertising on your website. The Chat Checks live chat community platform is added content and income to supplement what you already have. We can help you with placement and creatives to seamlessly drive traffic from your site to your white-label chat community. In time, you will begin to see new search traffic based on your chat community content.
You have two ways to promote the live chat affiliate program. The first is to create your own white-label chat and social media platform. We provide the white-label creation interface so you can have your live chat community up and running very quickly. The second way to earn commissions is through direct linking to our existing chat platform.
When and how do I get paid?
Chat Checks issues affiliate payouts no later than the 15th and 30th of each month. The pay period of the 1st through the 15th of each month will be paid out on or before the 30th. The pay period from the 16th through end of the month will be paid out on or before the 15th of the following month. Affiliate payouts are made in U.S. dollars. We offer multiple payment options via paper check or Zelle.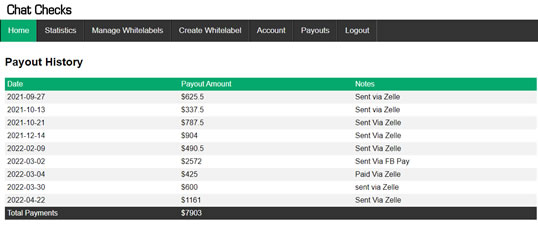 More Information About Chat Checks
More Information: Contact Us   FAQ   Affiliate Program   Sign Up