Chat Management Interface for Affiliates
Live Chat Creation Tool
The chat management interface for affiliates makes creating and managing your chat community fast and simple. Create your own live chat communities easily right in your affiliate control panel. Simply open the chat creation tool "Create Whitelabel," enter the 4 fields and you're done! You can host your chat community on your own domain or as a subdomain on Chats.zone. From there you will click "Manage Whitelabels" to customize your text, images, colors and metatags. See our promo tools to see how you can integrate your chat community into your existing site.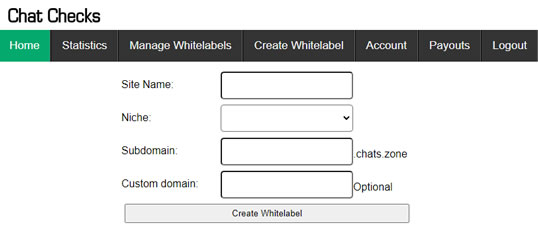 The Chat Checks white-label chat community platform is fast and easy to set up, yet robust with the features listed below.
Live Chat White-Label Features
Numerous ways to integrate your chat
Use our domain or create your own subdomain
Customizable to match your website look and feel
Custom text, images, colors and metatags
Unlimited white-label chat communities
Many niches are available
Affiliate support team support
See live chat promo tools for more tools
Chat Management Interface for White-Labels
Once you have set up your white label chat community you may use it as-is, however, most webmasters want to modify the look and feel of their chat community to match their primary domain. The "Manage Whitelabels" navigation tab will display tools (screenshot below) to add a custom logo, header photo, custom text, change colors, and add metatags. You can even use the localization feature if your site specializes in a specific city. By using this optional feature, you can set the landing page to your city (ex: Chicago) where the Chicago chat page is displayed along with "who's online" thumbnails showing members from that city. If you have any questions about setting up your white-label chat just message support for fast answers.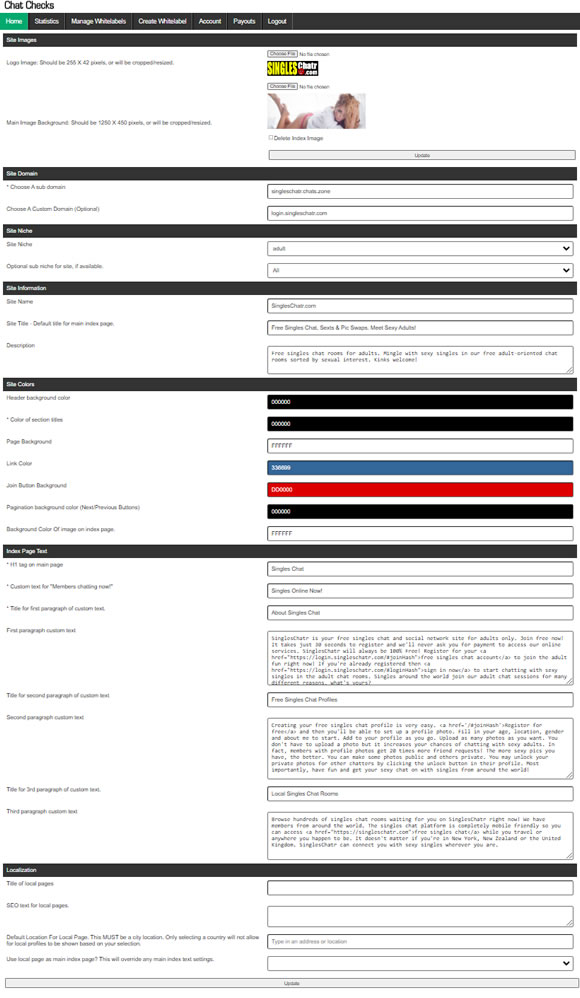 More Information About Chat Checks
More Information: Contact Us   FAQ   Affiliate Program   Sign Up