Free Gay Chat Software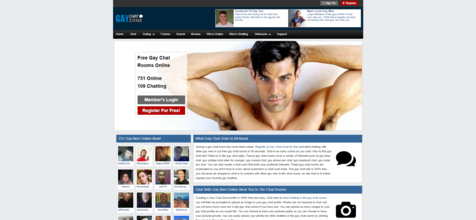 Free gay chat software for your website, provided by ChatChecks.com. Sign up as an affiliate for access to our feature-packed gay chat community software. Not only do we provide free chat software for webmasters — we pay you! Keep reading below to learn how our live chat affiliate program works and learn about even more features of our chat platform.
Free Gay Chat Software for Webmasters
Free gay chat software for webmasters is provided upon signup at ChatChecks.com. You will have complete access to our webmaster control panel which includes live chat creation tools, white-label management, promo tools and program stats.
White-Label Chat Platform for Gay Websites
Gay webmasters may link directly to our parent chat for the gay community at https://gaychat.zone or you can set up a white-label chat customized to match the look and feel of your website. White-label chat communities are hosted on our server but on subdomain of your site. See an example of a white-label site developed by the webmaster of https://bicuriousguy.com along with their white-label chat community at https://chat.bicuriousguy.com.
Gay Chat Affiliate Program
Gay Webmasters who use our free chat software are automatically enrolled as a ChatChecks affiliate. We provide our gay chat software free of charge and chat members also signup at no cost. We pay the administrative and development costs of our program by displaying non-obtrusive advertising at various locations within the chat community platform. We pay webmasters 50% of ad sharing revenue derived from your referrals. You may also refer your webmaster friends and received 5% for income derived from their traffic to our chat program.
Free Hosting and Updates
Free hosting and maintenance updates for your gay chat software.
Gay Chat and Social Media Platform
The chat platform provided by ChatChecks.com is much more than just chat!
Get Your Free Gay Chat Software Now!